Craving something sweet and delicious? Look no further than these 25 Incredible Blueberry Dessert Recipes for all things blueberry-flavored! Also, check out delectable roundups for raspberry, strawberry and peach desserts too!
Oh blueberries what you do to me! Who can resist gooey cobbler with a buttery crust or delicious crumble muffins bursting with blueberries inside - all buzzing with the goodness of blueberries!
That's why this blueberry dessert roundup is perfect when you want to bake and you want to include blueberries all at the same time! These 25 blueberry dessert recipes will delight your cravings of blueberry baked goods!
Blueberry desserts are not only beautiful, but they are also a great way to get the health benefits of these antioxidant-packed berries.
And if you're like me, you have an obsession with fresh, sweet, tart blueberries that bring the taste of summer right to home! From bars, cakes, breads, muffins, pies and cobblers, we've got you covered!
Let's get these blueberries bursting and baking!
Blueberry Streusel Coffee Cake is a tender coffee cake you'll go blueberry wild for! It's loaded with blueberries and topped with a delicious, brown sugar streusel crumble and vanilla glaze. This berry coffee cake is perfect for breakfast, dessert or a snack in the middle of the afternoon! Vegan, gluten free options are also available!

A FAST, crustless, no-mixer dessert that's perfect for summer entertaining, picnics, or potlucks!! Somewhere in between pie, cake, and blondies is what you get with this FABULOUS blueberry dessert recipe! Take advantage of those FRESH blueberries!!

Oh My Heavens! This Buttermilk Blueberry Explosion Cake absolutely makes my day! This blueberry breakfast cake is loaded with juicy, sweet & tangy blueberries bursting with tons of flavor in a light, fluffy, buttermilk coffee cake. Super easy to make and it's the perfect snack in the middle of the afternoon or for breakfast!

Make this easy blueberry cake with fresh summer berries! This blueberry dessert is quick to make and is covered with caramelized blueberries. The blueberries cook in the bottom of the cake pan and then the cake is flipped over for a moist cake covered in a thick topping of delicious blueberries.

This lemon blueberry cake starts with a moist & tender lemon cake that's dotted with juicy blueberries. Then it's topped with cream cheese frosting that has just a hint of lemon. It's a simple recipe that's easy to make and perfect for spring & summer.

These homemade blueberry muffins are moist, loaded with berries, and so easy to make from scratch that I'll never make the boxed kind again.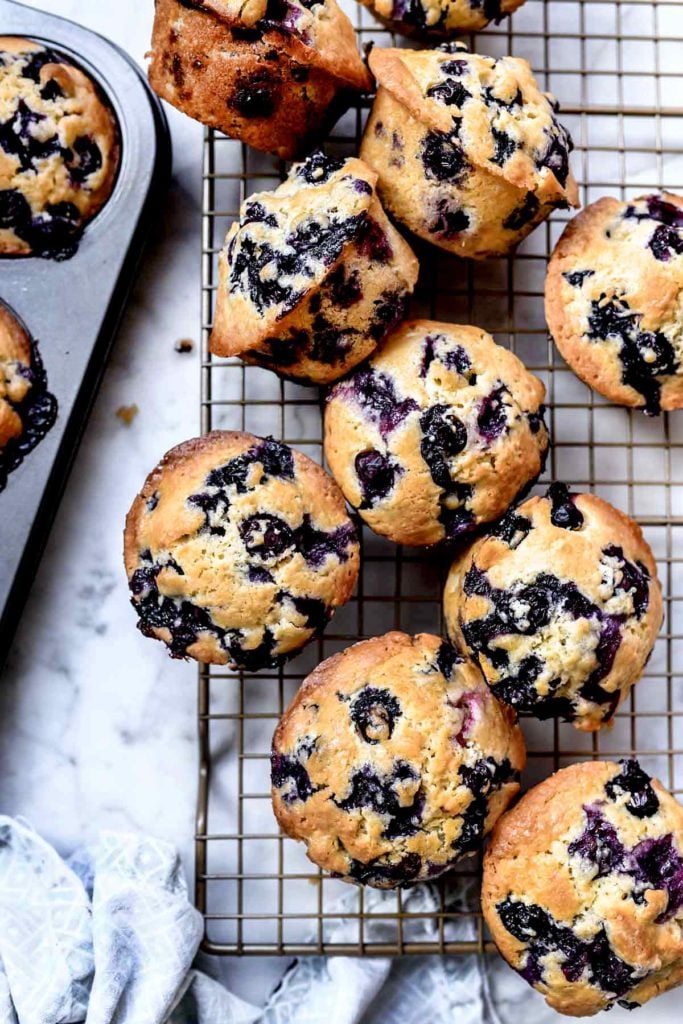 Blueberry Cobbler is one of those wonderful summer desserts that is full of fresh berries and sweet, cake-like topping. The topping is one of my favorite parts of this classic dessert because it's soft and moist. It soaks up so much blueberry flavor and becomes this perfect marriage of berries and topping. This warm dessert is so comforting, it just begs for a scoop of vanilla ice cream on top.

Fluffy and flavourful, these baked blueberry donuts are your coffee's best friend! Topped with a simple lemon glaze with flecks of fresh lemon zest, these homemade baked donuts make for one delicious treat!

A springtime sky high cake stacked with fresh blueberries and zesty flavor, layered with homemade blueberry lavender jam and mascarpone buttercream frosting.
When you taste these super Soft Lemon and Blueberry Cookies, it's like a lemon and blueberry explosion went off in your mouth! Between the juicy blueberries and the tangy lemon glaze in these so soft, thick bakery sugar cookies...OMG!
Blueberry Cream Cheese French Toast Bake Without Any Overnight Chilling Is The Perfect Cross Between A French Toast Bake And Blueberry Cream Cheese Danish.

One bowl, 25 minutes, and less than ten ingredients needed to make these soft and chewy Oatmeal Blueberry Cookies.

This easy Lemon Blueberry Explosion Loaf is actually a homemade Copycat Starbucks Lemon Loaf except this lemony loaf has an explosion of robust blueberries inside that will absolutely tantalize your taste buds!
Cinnamon Rolls from Scratch: Elevate your cinnamon rolls by adding blueberries to the mix. These soft cinnamon rolls from scratch are extra soft and have the most delicious blueberry filling. Your entire family will love them!

Baked Blueberry Banana Oatmeal Cups – perfect and healthy way to start your day! Delicious, moist and not too sweet! Very easy to make, fast to eat and a good choice for every occasion!
This easy keto blueberry bread is super soft, moist, and fluffy. Enjoy a low carb blueberry bread that's gluten-free, easy to make, filled with juicy blueberries, and topped with a delicious sugar-free lemon cheesecake glaze

Fresh blueberries combine with a bit of sugar, some cinnamon, a hint of ginger, and a splash of lemon juice to create the blueberry filling that is sandwiched between layers of rich, buttery streusel to make these easy Blueberry Crisp Bars! A great way to showcase sweet, summer blueberries!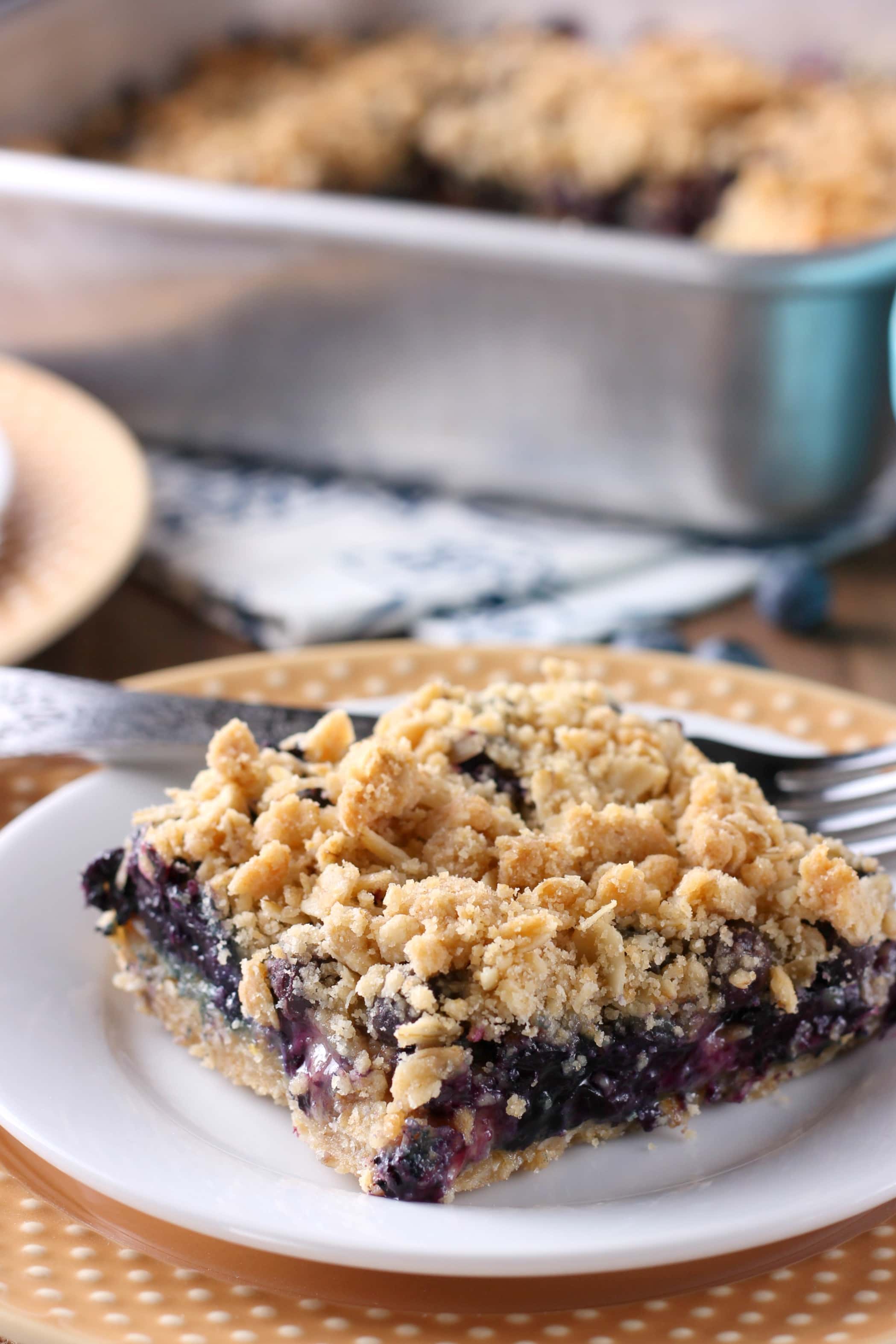 These vegan blueberry cinnamon rolls are soft, buttery and packed with blueberries! They are easy to make and use common pantry ingredients. You can choose between a rich blueberry icing or blueberry cream cheese icing.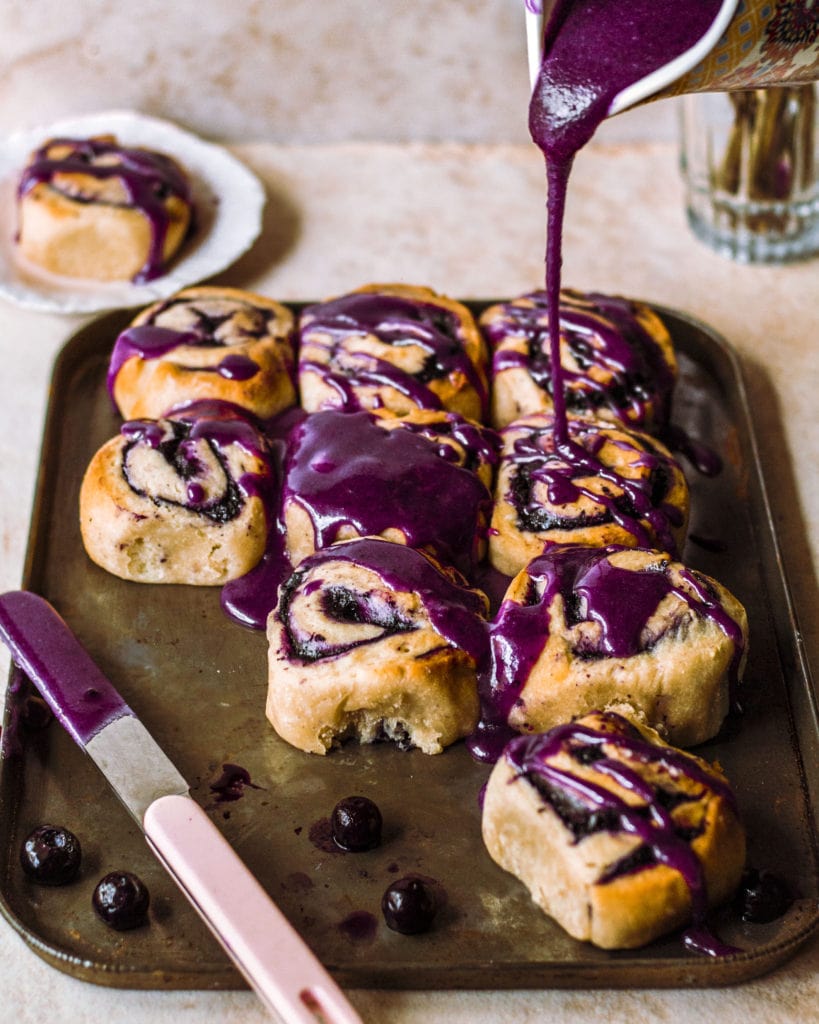 It's such a lovely, fluffy, buttermilk cake loaf loaded with blueberries, layers of cinnamon and sugar inside and on top and then it's drizzled with an old-fashioned cream glaze. *Swooning yet?

This isn't your ordinary blueberry pie! This Blueberry Custard Pie has a crispy crust and is full of juicy blueberries, a simple custard and the most delicious crumb topping. Served with a scoop of vanilla ice cream, this pie is a little slice of heaven blueberry dessert recipes!

Blueberry Coffee Cake Muffins with a light cinnamon cream cheese center. Crunchy, buttery topping, fresh plump blueberries & a deliciously tender muffin. This is the perfect treat to bring with you to someone's house on vacation, spring & summer brunches and breakfasts, and it is one of my favorite beach house breakfasts. They are meant to be on the table with powdered sugar and lots of coffee.
An amazingly moist muffin bread filled with blueberry pie filling. Topped with a crumb topping and drizzled in a lemon glaze this bread is incredible!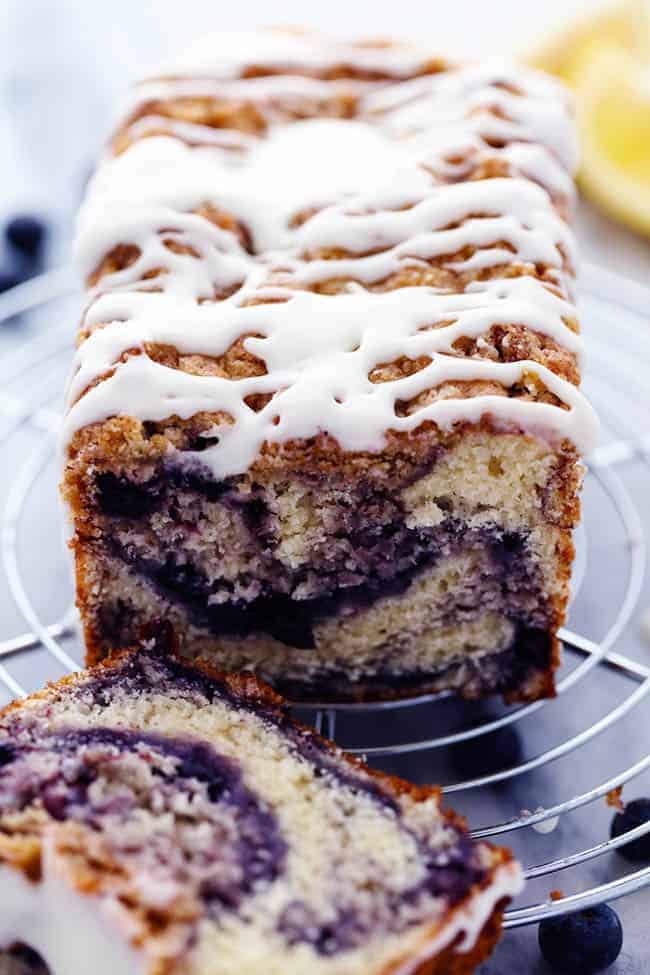 Blueberry Cream Cheese Crumble Bars are so easy to make and so amazing to eat! This blueberry crumble bars recipe begins with using a vanilla cake mix, with the addition of fresh blueberries, cream cheese, a delicious buttery crumble and a vanilla glaze to make them complete!
There's nothing quite like fresh-baked blueberry scones on an easy-going morning, especially when the process of preparing them is as sweet as the scones themselves! This is definitely on of our favorite blueberry dessert recipes!
Whether you're an experienced baker or just a beginner, why not take a chance and make a blueberry dish that's truly "buzz-worthy"? The possibilities are endless, and the rewards are definitely sweet!
I hope you loved all 25 Blueberry Dessert recipes to Bake blueberry-worthy!
More Berry Ideas!