25 Mother's Day Dessert Recipes of "Sweet Things"! Here are 25 of some of the sweetest desserts that would impress a Queen, and in the real world, that would be your 'Mother'. Via Queen Bee, Matriarch, Mom, Mum, Mama, Ma, Momma, Boss, and Mama-Bear <--- which is my 'mom' reference deemed by the kids and husband. Who doesn't wanna be a mama-bear?
25 Mother's Day "Sweet Things" That Will Impress the Queen, Herself! Hail the Mom! You know the saying, "If Momma ain't happy, ain't nobody happy!"? It's so true. But, on Mother's Day, (this particular day) no matter what, let Momma have her cake and eat it too! Literally!
So let the festivities begin with 25 Mother's Day "Sweet Things" That Will Impress the Queen, Herself! Hail the Mom! (The picks for the Queen (s) in your life!)
Delicious yellow cake layered with a luscious raspberry frosting and a lovely mound of raspberries on top!
These mini meringue-coated chocolate ice-cream-and-cake concoctions are stunning desserts for a crowd or just for mummy! 🙂
A sweet, moist, dense key lime pound cake drizzled with a tart key lime glaze. A delicious Southern twist to a traditional pound cake.
This Super Delicious Overnight French Toast Bake Recipe Takes French Toast To A Whole New Level! Pieces Of Sourdough Bread Covered In An Egg Mixture, Topped With Cinnamon Sugar, And Baked To Perfection! This Easy French Toast Casserole Is The Ultimate Holiday Or Weekend Breakfast for Mother's Day dessert or brunch!
A smooth and creamy white chocolate cheesecake over a honey graham cracker hazelnut crust.
6. Easy Oreo Pie via The Baking ChocolaTess
Mom will love this super-easy decadent, cream Oreo Pie recipe! It comes together beautifully in just 15 minutes, then sets up in the fridge 1 hour before it's ready to serve. It's the perfect light and fluffy cookies and cream dessert for any occasion! Everyone always goes crazy over it, because it tastes so amazing! Plus, who doesn't love Oreos included in dessert? An Oreo Lovers dream come true!

These cupcake bouquets are super popular with moms for Mother's Day desserts!
Chocolate brownies with a luscious chocolate and caramel frosting topped with a Rolo! Perfection for Mother's day desserts!
This luscious Strawberry Ice Box Cake is right down my alley. Layers of French vanilla pudding and whipped cream, and those strawberries entertwined with graham crackers, makes this dessert scream 'Hello! I'm ready for the Mom's Day party!'. Seriously...you won't want to miss this sweet gem.
This elegant tart has a crisp cookie crust that is filled with a layer of salted caramel and topped with a thick decadent ganache.
A delicious treat for breakfast...or Mother's Day Brunch!
If you love cheesecake, and love Kahlua, then this rich and delicious Kahlua Cheesecake needs to be added to your Mother's Day dessert cheesecake list!
Brownie lovers, these are the cookies for you. Enjoy a little happiness in your day with these gooey, melt-in-your mouth, soft & chewy Fudgy Brownie Cookies! You won't be able to resist the double chocolate brownie goodness in these crinkle top cookies, noting chocolate chips and cocoa powder! Add some sea salt to take them next level sweet and salty delish! They are the perfect decadent treat that's sure to please Mom!
These moist Vanilla White Bundt Cakes are so pretty and delicious! They are made with sour cream to give them an amazing soft, yet dense texture. Made from scratch, it's the best and perfect white cake recipe for all of your mini bundt cakes, cupcakes, wedding and birthday cake celebrations!
Cherry Pie Cookie Cups are the perfect answer to a cherry pie craving! These bite sized desserts are prepared in 5 minutes and are sure to disappear quickly! Mom will love!
You can make delicious, semi-homemade orange knots in under 30 minutes with this family favorite breakfast recipe. These ingredients are easy to keep on hand, and are always a hit while entertaining.
This Death by Chocolate Icebox Cake was a huge hit! Layers of chocolate ganache, chocolate mousse and chocolate graham crackers are topped with chocolate sauce for a decadent treat that'll put you in a chocolate coma! All mom's love chocolate!
Angel food Cake French toast dipped in cinnamon batter might just be the BEST French Toast ever! Mom's Day Brunch isn't complete without this!!
The best real Southern caramel cake recipe on the web! If you want authentic Southern Caramel Cake with the best caramel icing, you must make this recipe. It is the real deal for real for a true Mother's Day recipe dessert!
These scrumptious uber-yummy blueberry and blackberry 'bakery style' muffins offer an explosion of flavor in every bite. Yaaaasss please! Blueberry & Blackberry Muffins are basically cake for breakfast, so how can you go wrong? Cake for breakfast every day?
Not for the weak of heart, this chocolate and peanut butter torte is a peanut-butter lover's dream. Keep the ice-cold milk nearby for another one of our best Mother's Day Dessert recipes!
As if you needed another excuse to love peaches, these buttery peach shortbread crumble bars laced with whiskey will seal the deal! Make them with or without the alcohol, they're simply amazing. Perfect for the Rockin' Mom!
The classic banana pudding uses with cool whip and vanilla wafers. Then came Paula Deen's recipe which has cream cheese in it, yum! The recipe is the same as Paula's except made more decadent by the addition of those yummy Golden Oreos. So pull out your mixer, crumble some oreos (and snack on one or two 😉 and make this luscious dessert!
This Cherry Poke Cake is light and refreshing, and is perfect for your Spring celebration! One of our best Mother's Day Dessert recipes!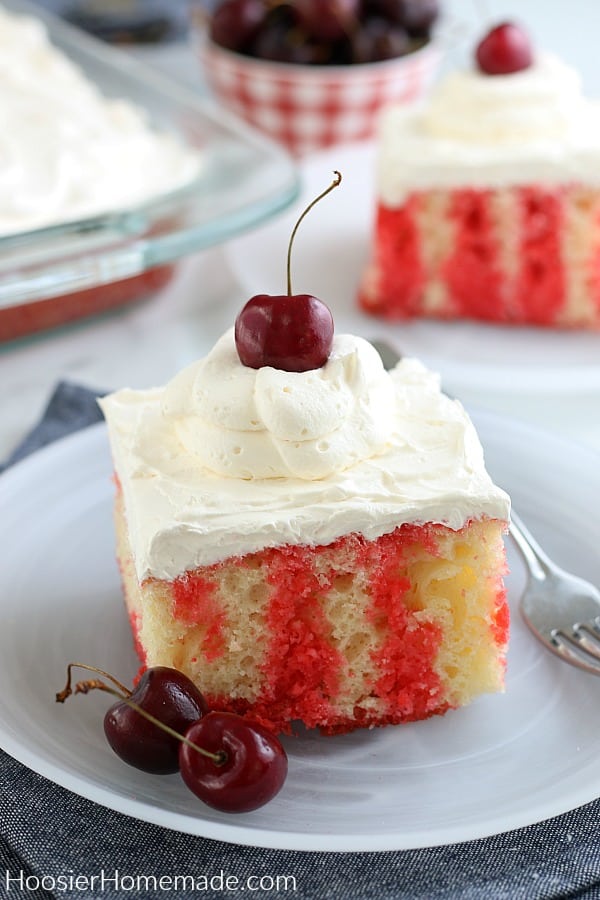 This cheater cinnamon roll recipe is made with Sweet Hawaiian Rolls and Cinnamon/Sugar Butter then topped with Cream Cheese Glaze. The best part, this easy breakfast is ready in 30 minutes! Mom will go crazy over this Mother's Day Dessert for the morning!
These best Mother's Day Dessert recipes pass my test! I love them all! Happy Mother's Day is approaching and the Queen is awaiting. Happy Mother's Day!
Looking for more Yummy Round-Ups? Check 'em out!