25 Drool-Worthy Red Velvet Dessert Recipes that we are totally wishing we had in front of us this moment! That vibrant red color we see in traditional red velvet cake also features red velvet brownies, cookies, bars, cheesecakes, cupcakes and way more!
If you are a red velvet lover, check out these decadent red velvet desserts.
Roll out the Red Carpet for these fun and decadent Red Velvet Tuxedo Brownies for any celebration! All dressed up with a luscious white and chocolate frosting, these easy, red velvet brownies will impress and make a statement!
These treats are so awesome for you Valentine's Day, Mother's Day, Christmas, and a Queen of Hearts Card Party for sure, right? I can see it!

Vegan red velvet cupcakes which are moist and melt in your mouth! Included is an option for vegan gluten free red velvet cupcakes and ones with no food dye.
These easy super-thick delicious Red Velvet Cookies have the perfect balance of red velvet flavor, with a touch of cocoa and are made from scratch. These red velvet levain lovelies are a little crisp on the edges, a little chewy, and gooey, soft in the centers and soooo addictive.
Red Velvet Cake In A Jar feature layers of red velvet cake and strawberry rose cream cheese frosting in miniature jars. They're perfect for gift giving!
Easy Dreamy Red Velvet Cream Cheese Poke Cake is one of the easiest desserts you can make for a family after dinner dessert. Don't miss out on all the dreaminess of a red velvet cream cheese poke-filled cake! One of our easiest red velvet dessert recipes!
These pretty red velvet cake truffles are red velvet cake balls made of delicious red velvet cake mixed with real cream cheese frosting with a rich chocolate coating! These are LUV! We love red velvet desserts using cake mix!
This red velvet cheesecake recipe combines two beloved classic desserts: red velvet cake and cheesecake to create the ultimate gorgeous, decadently delicious, show stopping dessert.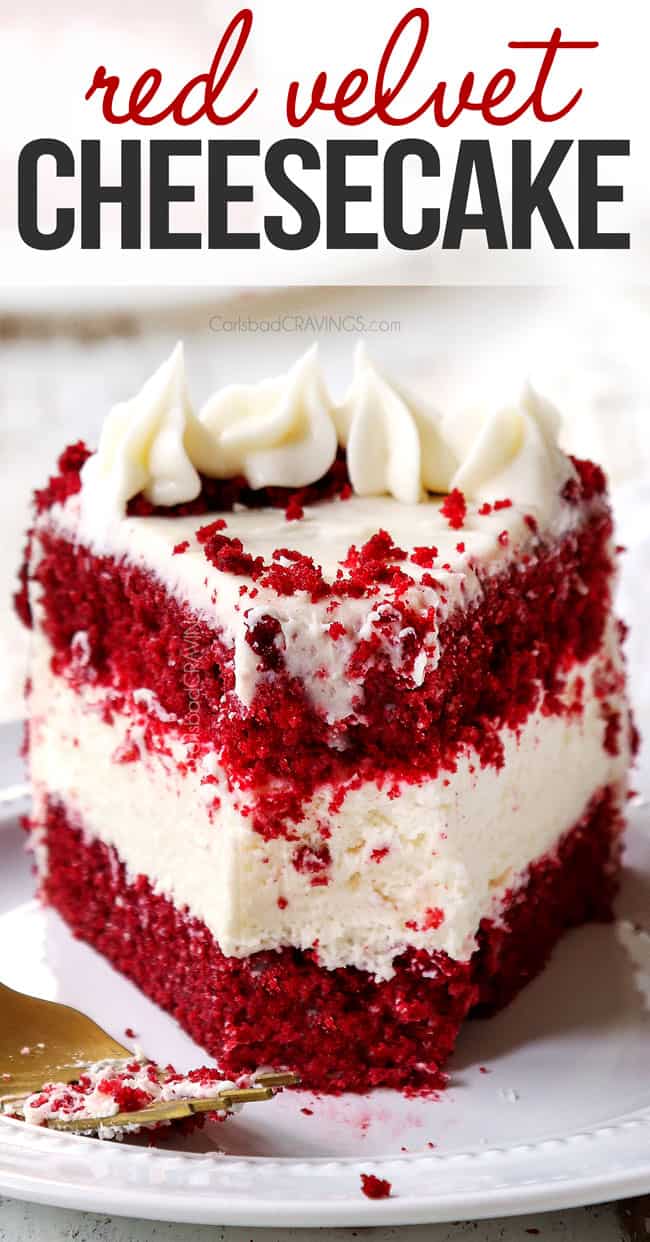 Our absolutely decadent Red Velvet Cinnamon Rolls are surprisingly easy to make with this box cake shortcut! Click for photo step-by-step recipe how to make red velvet desserts using cake mix! One of our favorite red velvet dessert recipes to make!
This easy Red velvet Cake Roll recipe is rolled up in a roulade – it's the perfect cake for any occasion! Plus it's filled with CREAM CHEESE FROSTING!!!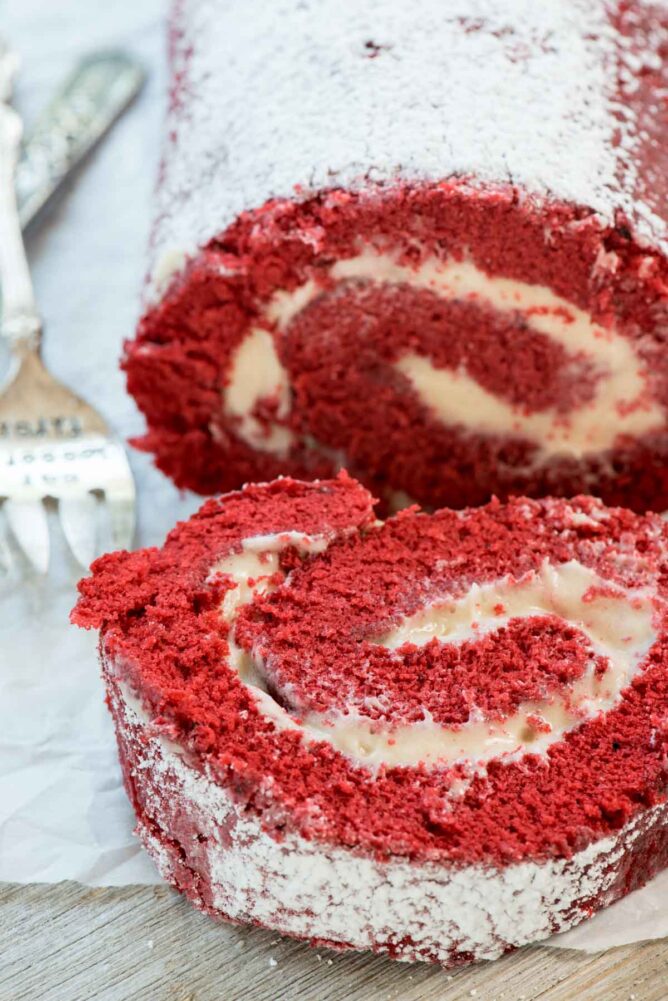 Does it appear these devilish, ruby red velvet cookie bars are tempting us so, and then, even more with that smooth and creamy cream cheese frosting settling in quite comfortably, like they were made for each other? Oh Yeaaassss!
Luscious, thick and creamy Red Velvet Cheesecake has a beautiful tang and classic red velvet flavor. Perfect for a special party or Valentine's Day! Step-by-step photos help you bake the perfect red velvet cheesecake recipe!
Love will be forever associated with the color red, which is why red velvet is often thought of as a romantic dessert. When you want to say "I love you" with food, this rich, moist, red velvet bundt cake swirled with a sweet cream cheese filling is the perfect recipe.
Top it with a cream cheese frosting and colorful sprinkles for an extra special touch.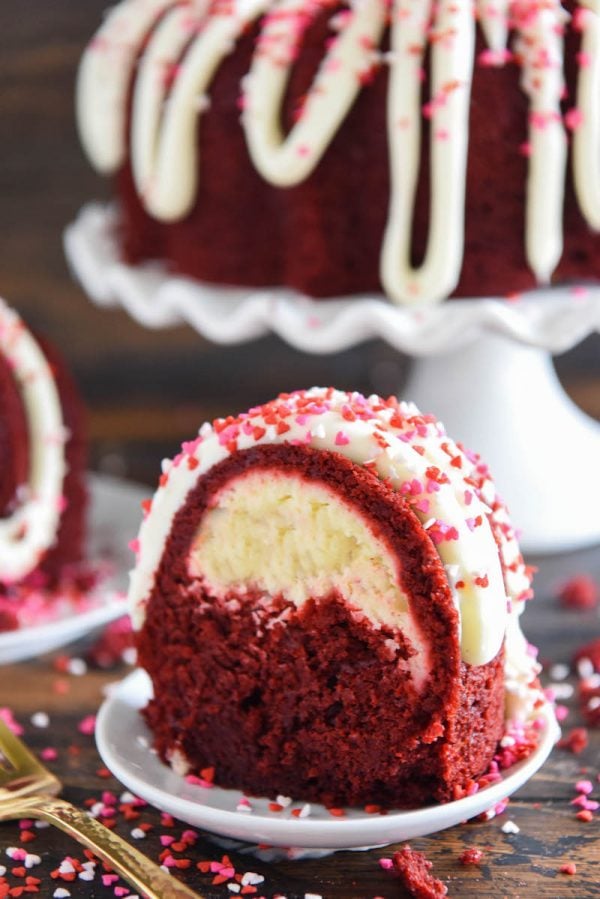 These red velvet sugar cookies will make your day! Soft & tender, fun & brightly colored, with a hint of cocoa & a slight cream cheese tang.
You may love these Pink Velvet Lofthouse Swig Cookies too!
These rich, decadent Mini Red Velvet Brownies are all decked out with a lovely, creamy vanilla bean cream cheese frosting! Made with the best home-made love, these are a Valentine's Day sweet treat sure to get some attention!
Decadent Red Velvet Cupcakes topped with a luxurious cream cheese frosting are absolutely delicious and stunning as well! Super moist with a fine crumb makes these red velvet cupcakes truly irresistible!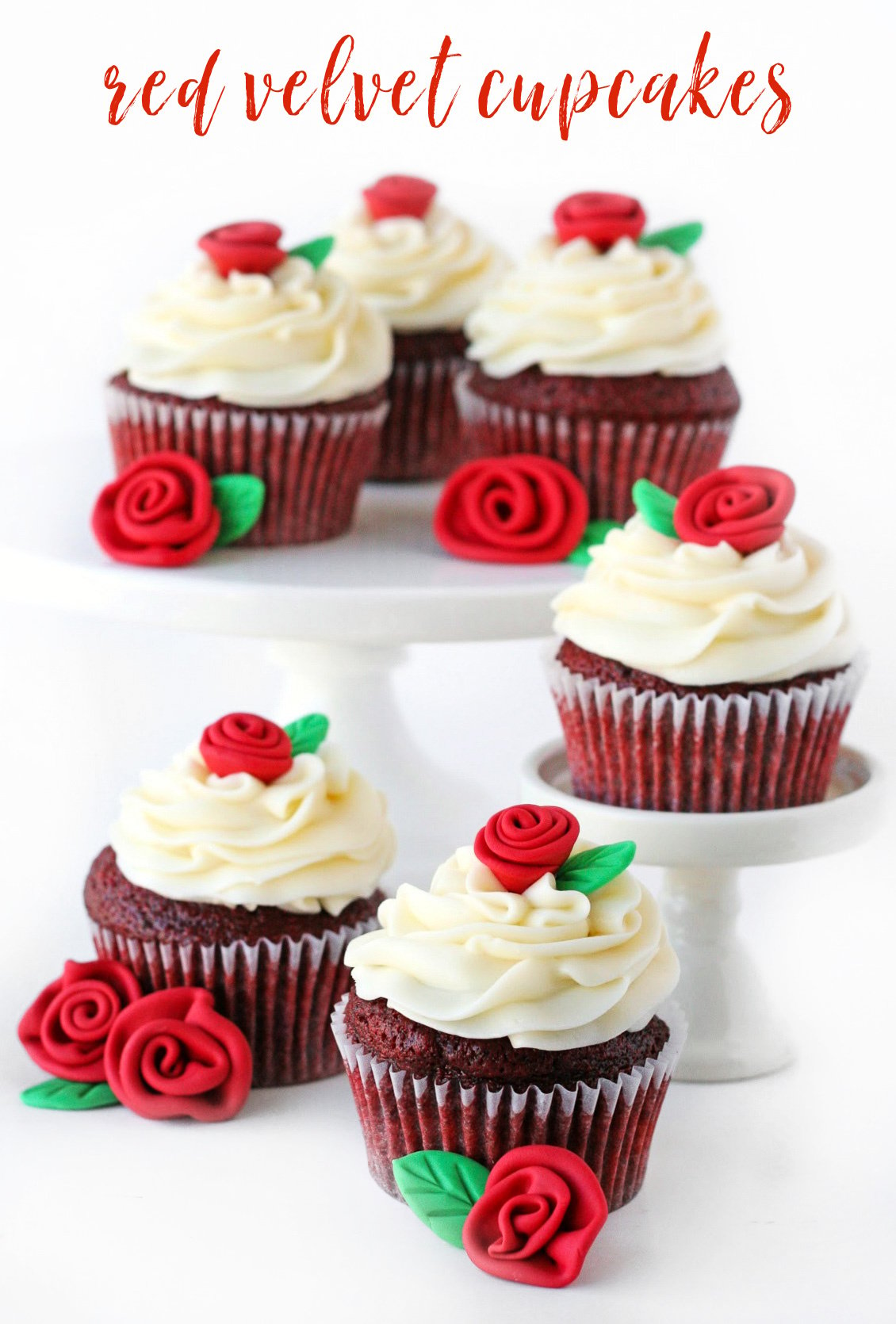 Get in the Christmas spirit with these fudgy homemade red velvet crinkle cookies. Perfect for your next holiday party or to leave out for Santa!
These rich, cream cheese frosted decadent red velvet brownies are made with home-made love, waiting to be kissed by your lips! These are a Valentine's Day sweet treat sure to get some attention!
Cheesecake Stuffed Red Velvet Cookies are creamy, festive, and are the perfect treat to have during the holiday season. You get a dessert which is the best of both worlds. A delicious red velvet filled with cream cheese, in cookie form!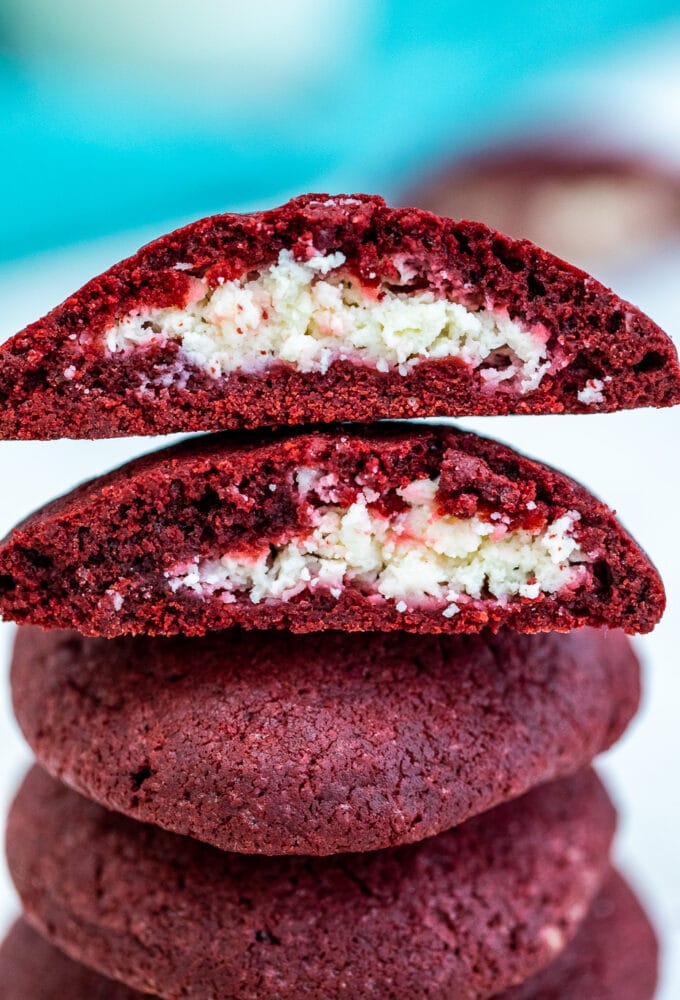 This "American Beauty" Retro Red Velvet Cake is one of the most romantic, vintage-modern cakes ever. The red velvet texture is tender and moist, yet dense enough to give it a "velvet" texture. Not too much cocoa, with a slightly tangy buttermilk taste brings it back to the 50's and 60's popular era, with an elegant modern touch.
A cream cheese buttercream frosting pulls it all together like a happy yummy velvet cake dream come true. You're welcome!
Heart-shaped Red Velvet Whoopie Pies is the perfect dessert for Valentine's Day and easy homemade Valentine's gift. These cute, heart-shaped whoopie pies taste just like delicious red velvet cake but in a smaller, more portable form.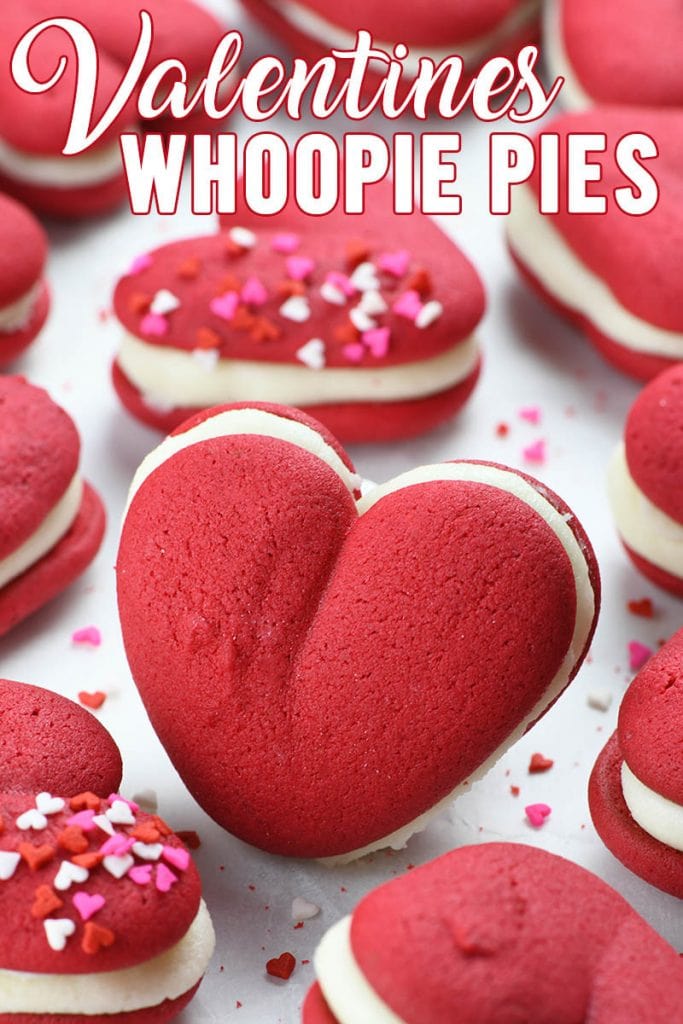 Boozy Red Velvet Trifles are the perfect treat to share on Valentine's Day or for any special occasion... booze, whipped cream, cake... 'nuff said.

Learn how to make these beautiful red velvet macarons! They're filled with cream cheese frosting and are absolutely delicious!
This gorgeous Red Velvet Ice Box Pie combines crushed red velvet sandwich cookies with a decadent and simple-to-make cream cheese filling. Add a homemade chocolate crust and it's a red velvet lovers dream dessert come true.
Delicious Red Velvet Brownies with a Vanilla Cheesecake Swirl! Who can resist?
This Deep Dish Red Velvet Cookie Cake is super delicious and perfect for red velvet fanatics! A soft and chewy deep-dish-style cookie cake with white chocolate chips and cream cheese icing!
More Dessert Roundups You'll Love as Well!
More Fun!! Check out these Valentine Red Velvet Party Blast Cookie Pie and Red Velvet Cake Donuts!!