Give it up my sweet friend!
You cannot resist the temptation of Awesome Country Apple Fritter Bread!!!
Once you start smelling that succulent apple fritter bread filling the house with that intoxicating, irresistible aroma while it's baking. . .it's pretty much over.
You really never did had a chance. . . not even for a second…or two! Come to Mama!
Do you love Apple Fritters?
Have you ever had an apple fritter transformed into fluffy, buttery, white cake loaf with chunks of juicy apples and layers of brown sugar and cinnamon swirled inside and on top?
Drizzle with some old-fashioned creme glaze and devour with this Awesome Country Apple Fritter Bread! It's so moist, so delicious and full of home-made goodness straight from your heart, because why? Because YOU made it!
If you bake this, that's exactly what you'll get! *Lots of drooling and lots of happy smiles*
What's nice about making this Awesome Country Apple Fritter Bread is, you don't have to be an expert baker.
( This post contains affiliate links for your convenience. Click here for my full disclosure policy. )
All you need is a 9×5 loaf pan to bake it in and it only takes 15-20 minutes to prepare and 60 minutes to bake. Everyone will think you are an expert baker though, provided you follow the instructions as written!
Maybe it will inspire you to make some more breads, like this Vanilla Bean Cream Cheese Pound Cake Loaf, this Lemon Limoncello Cake Loaf this Perfect Chocolate Chip Banana Nut Bread or even this Pumpkin Walnut Bread.
My all-time best tip is to not over-mix quick breads. If you want more tips, check out these "Secret" Baking Confessions for Quick Breads!
Better bake 2, one for them and one for yourself! Trust me on this one. It's the perfect fall bread and it's super addicting and I can say I told ya so. 🙂
This Awesome Country Apple Fritter Bread is the Most Popular Apple Recipe on Pinterest on Food Network!
It's been pinned over a million times and has also featured on Food Network's 'The Kitchen' Show. If you haven't seen me making this bread on FoodNetwork, you can watch it on YouTube right now!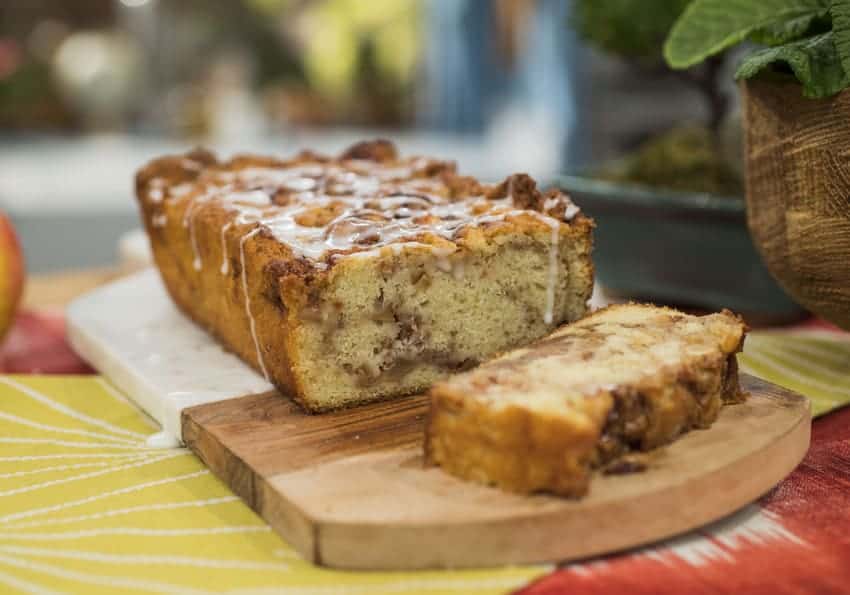 Courtesy of Food Network -Kim Lange makes Apple Fritter Bread, as seen on Food Network's The Kitchen, Season 20.AND…Did you know there is also a muffin version of this Awesome Country Apple Fritter Bread on the blog here? And if you like Blueberries, check out this version Country Blueberry Fritter Loaf.
Here's a video how to make Awesome Country Apple Fritter Bread!